Santegra®
Regular price
Sale price
€21.95
Unit price
per
Sale
Sold out
Share
View full details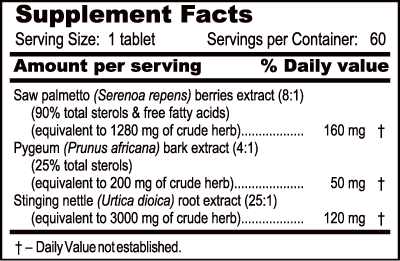 Product information
Details

This unique product from Santegra® - Sanoprost™ TR is designed to maintain prostate health.
Prostate gland grows larger as men age, a condition known as Benign Prostatic Hyperplasia (BPH). Prostate gland encircles male urethra, and enlargement in prostate gland blocks urinary passage, causing BPH symptoms including difficulty in starting the urine flow, bedtime and frequent urination, decreased urine stream, dribbling after urination ends, the size and strength of the urine stream may decrease. These symptoms can make your life intolerable.

BPH affects some 10 million men in the US each year. At least 50% of men after the age of 50 would develop enlargement of prostate. Almost 90% of men aged 70-80 or older suffer from BPH and many of them resort to surgery. BPH is an age-related non-malignant enlargement of the prostate gland due to increased numbers of cells triggered to grow in the prostate.
This original blend is a combination of three well known herbs from different parts of the world: Saw Palmetto, Pygeum and Stinging Nettle. But this is not the only news. The new coating technology was used to give this product a Timed Release Effect. The combination of this two inventions helps not only in the delivery of the bioactive nutrients, it also controls the release of the ingredients in a programmed, more beneficial manner. For centuries the extracts of these herbs have been used for genitor-urinary complaints, but in the combination with new technology it is going to provide more pronounced results.

Saw Palmetto have been known and used by men for centuries to increase sexual vigor, to improve sperm production, and to prevent hair loss. It has been considered useful as a urinary antiseptic and diuretic, but its most effective use is to relief symptoms of BPH. The extract comes from the berries of the dwarf palm tree Saw palmetto (Serenoa Repens). Saw palmetto contains phytosterols, substances that curb prostate cell growth. Many reports and studies suggest that use of saw palmetto can decrease the size of the prostate and improve urinary symptoms after months of use. Although Saw palmetto does not affect certain hormonal levels, there is clinical evidence, however, to suggest that its mechanism of action is similar to that of the commonly prescribed prostate drugs.
Dosage: Sanoprost™ TR contains 160 mg of Saw Palmetto standardized extract per tablet, with the recommended daily dose of 320 mg (2 tablets per day). Numerous trials proved this amount of extract to be the most effective daily dosage.

While saw palmetto extract is the far better known herbal medication to reduce the size of an enlarged prostate, Pygeum may in many cases be as effective. Pygeum, also known as African plum grows in the high plateaus of South Africa. Pygeum has been approved for treating mild to moderate BPH in Europe since the early 1970s. The bark appears to work by reducing inflammation, promoting urination, and ridding the prostate of cholesterol deposits that can occur with BPH. Symptoms of prostate problems may ease as a result.
Dosage: The most effective dosage of Pygeum bark extract (25 % total sterols) is used in Sanoprost™ TR: 50 mg per tablet and 100 mg (2 tablets) as a recommended daily dosage.

In folk medicine Stinging Nettles have been used as a diuretic, to build up the blood, for arthritis and rheumatism. Many remarkable healing properties are attributed to Stinging Nettle, and the leaf is utilized for different problems than the root. The leaf is traditionally used as a diuretic, for arthritis, prostatitis, rheumatism, rheumatoid arthritis, high blood pressure and allergic rhinitis. The root is recommended as a diuretic, for relief of BPH and other prostate problems.
Dosage: Stinging Nettle content in Sanoprost™ TR is 120 mg of 25:1 extract per capsule or 240 mg daily dose (one tablet twice a day), which is equal to 6 g of raw Stinging Nettle root powder – the amount proved to be effective in various clinical trials.

Timed release effect vs Typical delivery system.
Sanoprost™ TR tablets are produced with the help of new Timed Release Technology.
Patented Timed Release Technology uses a proprietary blend of specially processed natural fibers. When this fiber-nutrient matrix contacts gastric fluids it forms a gel-like mass, which releases the nutrients gradually just like the fiber in whole foods. The gel-like mass creates a drag effect in the GI tract to slow its transit time. This allows the nutrients ample time to be released while still in the small intestine. Standard nutritional tablets and capsules are not specially formulated to release their ingredients in any programmed manner. There is no guarantee where or when the active ingredients will release. Clinically tested Timed Release Technology gives Sanoprost™ TR precise sustained release.
Supplement Facts

Per one tablet:

Saw palmetto (Serenoa repens) berries extract (8:1) (90% total sterols and free fatty acids) (equivalent to 1280 mg of crude herb) – 160 mg;
Pygeum (Prunus Africana) bark extract (4:1) (25% total sterols) (equivalent to 200 mg of crude herb) - 50 mg; Stinging nettle (Urtica Dioca) root extract (25:1) (equivalent to 3000 mg of crude herb) - 120 mg.
Usage

As a dietary supplement take 1 tablet with a large glass of water, 2 times a day.