Santegra®
Regular price
Sale price
€12.75
Unit price
per
Sale
Sold out
Share
View full details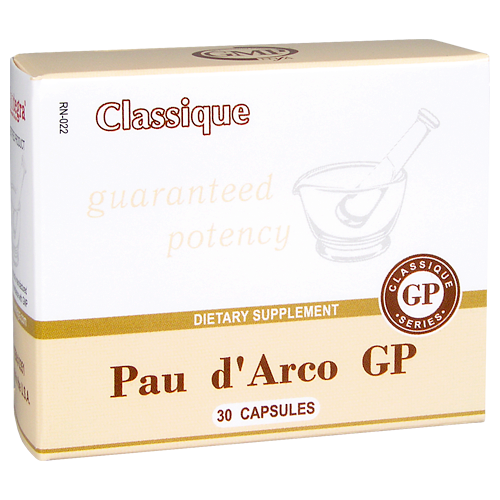 Product information
Details

Pau d'Arco GP is an excellent natural product that contains standardized bark extract of Pau d'Arco tree (Tabebuia impetiginosa).

Pau d'Arco tea has been used for many centuries by the tribes of South America. The ancient Incas and Aztecs were probably the first to discover the herb's healing powers.
Pau d'Arco was applied externally and internally for the treatment of fevers, infections, colds, flu, syphilis, cancer, respiratory problems, skin ulcerations and boils, dysentery, gastro-intestinal problems of all kinds, debilitating conditions such as arthritis and prostatitis, and circulation disturbances. It was used to relieve pain, kill germs, increase the flow of urine, and even as an antidote to poisons. (1)

The Guarani, Tupi and other tribes called the Pau d'Arco tree "Tajy," meaning "to have strength and vigor," or simply, "The Divine Tree."

One of the most important properties of Pau d'Arco is its ability to mobilize the body's host defenses.

The chemical constituents and active ingredients of Pau d'Arco have been well documented. The main active ingredients in this plant are the quinones, the most important ones being naphthoquinones, of which lapachol have shown the most documented biological activity.

Pau d'Arco is a potent antioxidant. In vitro trials show definite inhibition of free radicals and inflammatory leukotrienes by Pau d'Arco constituents.

Some constituents or groups of constituents of Pau d'Arco have been found to suppress tumor formation and reduce tumor viability, both in experimental animal trials and in clinical settings involving human patients.

Pau d'Arco has antimicrobial effect; naphthoquinones show potent antifungal properties in laboratory tests.

The anti-inflammatory and wound healing actions of Pau d'Arco extract were also demonstrated in clinical studies.

There is some evidence that Pau d'Arco can be useful in lessening the pain.

Pau d'Arco has mild soothing effect; relieves the irritation of inflamed mucous membranes (for example sore throat).

Pau d'arco due to its unique properties is very popular all over the world now. Unfortunately, its popularity has been controversial due to varying results obtained with its use. For the most part, these seem to have been caused by a lack of quality control. Some products exported from South America as "pau d'arco," have few to none of the active constituents.

Santegra® thoroughly controls the quality of raw materials and manufactured products. That is why Pau d'Arco GP contains Pau d'Arco bark extract (4:1) with 3% naphtoquinones, which guarantees its effectiveness.

Pau d'Arco GP also contains rutin – widely used antioxidant that strengthens blood vessels, decreases capillary permeability, and increases its elasticity.
Supplement Facts

Per 1 capsule:

Pau d'Arco (Tabebuia impetiginosa) bark 4:1 extract (standardized to 3% naphthoquinones) (equivalent to 1400 mg of crude bark) - 350 mg, Rutin – 25 mg.
Usage

As a dietary supplement, take 1-2 capsules daily with a glass of water.